Me and Susanna watched the launch of the STS-116 Discovery tonight. We are very proud of that one of the crew is swedish – Christer Fuglesang: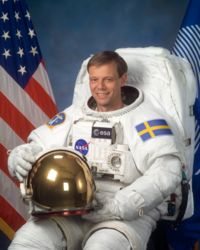 The STS-116 crew members will dock to the International Space Station, install the new P5 truss structure and perform three spacewalks to rewire the station for electricity generated by a solar array delivered in September. Christer will perform one of the spacewalks.
We will continue to follow this exiting mission in space.
You can also
bookmark this
on del.icio.us or check the
cosmos
RSS feed for comments on this post. | TrackBack URI
Leave a Comment